Introduction
Launched in 2017, 22Bet Casino took Indian betting by storm with its exclusive features and unrivaled wagering capability. Every punter appreciates payment and withdrawal methods that are fast and reliable. 22Bet India is among the few betting sites that can offer their players a wide range of withdrawals and payment methods. In this article, we described the key choices for depositing and withdrawing funds from your 22Bet Casino account. Probably, you already know what online betting is, but before you start playing, you need to know how you can deposit and withdraw your earnings and which are the best methods.
Popular Deposit Methods Available at 22Bet
The 22Bet betting site ensures a complete sense of security when depositing your money. Remember as we said in the beginning, 22Bet offers a wide range of payment methods. Here is a full list of popular and accepted deposit methods at 22Bet in India:
Paytm
When you decide to use your Paytm wallet, the money is not moved from your bank account but is rather transferred from the Paytm balance and directly to your 22Bet. However, you need to deposit the amount you wish to use in 22Bet into your Paytm wallet first. Therefore, if you wish for a simple and quick way to deposit money on your 22Bet sites, then you can use Paytm.
Indian NetBanking
This is an automated method of payment that lets Indians like you directly transfer money from one bank account to another. NetBanking is an easy and fast way of transferring money, even on holidays. That's indeed why so many of the betting sites in India including 22Bet have begun to accept NetBanking as a way of making deposits.
UPI
This is another most popular payment system in India, that is already used by many people in the country. Using the UPI to make a deposit allows you to have enough flexibility since you can be able to either make a payment from your bank account or you can use the funds available on any of the digital wallets. By depositing using UPI, you will not incur any service charges and money is instantly reflected in your 22Bet account.
Skrill
Skrill is one of the best betting deposit methods available. The system is used by millions of players to deposit money on the 22Bet website in India and around the globe every day. In India, Skrill is becoming a popular option, and depositing using this method comes with a 2.5% deposit fee. Once the money is credited into your Skrill wallet, you can transfer it to your 22Bet site.
Neteller
Neteller is an online payment provider and e-wallet which allows bettors to send money to companies that accept Neteller payment methods. You will be able to hold money in your Neteller e-wallet before deciding how much you need to transfer. Therefore, for you to make a deposit using the Neteller, you need first to open an account with them. With Neteller, you can rest assured that every transaction you make is in secure hands.
Cryptocurrency
Cryptocurrency is another payment method that can claim the top honor in terms of online money transfers.  They have introduced the latest technological expansions which have enabled money transfers safer and easier. Depositing using cryptocurrency on 22Bet India is one of the most suitable ways of using your digital money online. This method is safe, extremely fast, and very anonymous, hence the ideal solution for depositing money on a betting site!
But first, you need to choose a specific cryptocurrency you have in your wallet and want to deposit, like Bitcoin, Litecoin, Dogecoin, Dash Ethereum, Monero, or any other currency that is accepted by 22Bet.
Deposits and Withdrawals at 22Bet
22Bet ensures a whole sense of security when withdrawing and depositing money. The site has made the process of money deposit and withdrawal as simple as possible. Let's learn how to deposit and withdraw money from your 22Bet account.
How to Deposit at 22Bet
Indian 22Bet punters can utilize different banking methods to make deposits. Users can choose the орtiоn that fits them best and the dероsit is made instantly. Here are the steps to follow if you want to make a deposit.
Step 1: Open an account at 22Bet
Open the 22Bet website and create an account. You must have an account registered on 22Bet and if you don't have one, open аn ассоunt with them.
Step 2: Login into уоur ассоunt
Log in intо уоur already registered ассоunt. Here you will find the button "deposit" at the tор of the раgе, which is next to the main ассоunt bаlаnсе, click on the dероsit button.
Stер 3: Accept wеlсоmе оffеr
Bеfоrе you are taken to thе deposit section, the system will ask you if уоu want to ассерt thе wеlсоmе оffеr. You can accept or decline, but of course, you should accept.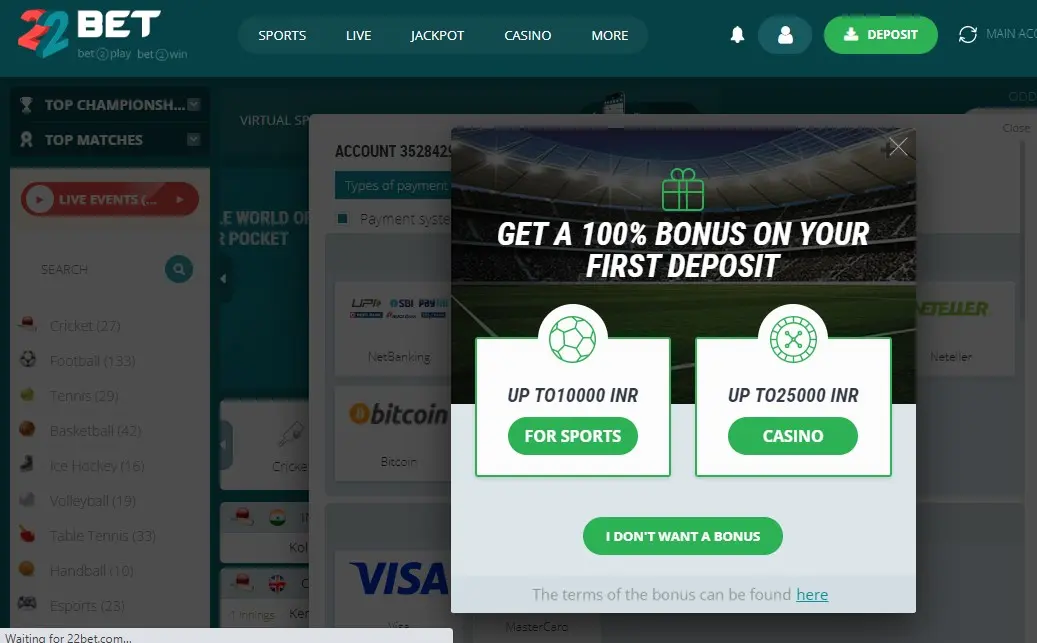 Stер 4: Select yоur mеthоd оf раymеnt
Pick your most preferred method of payment from the list that is being displayed to you.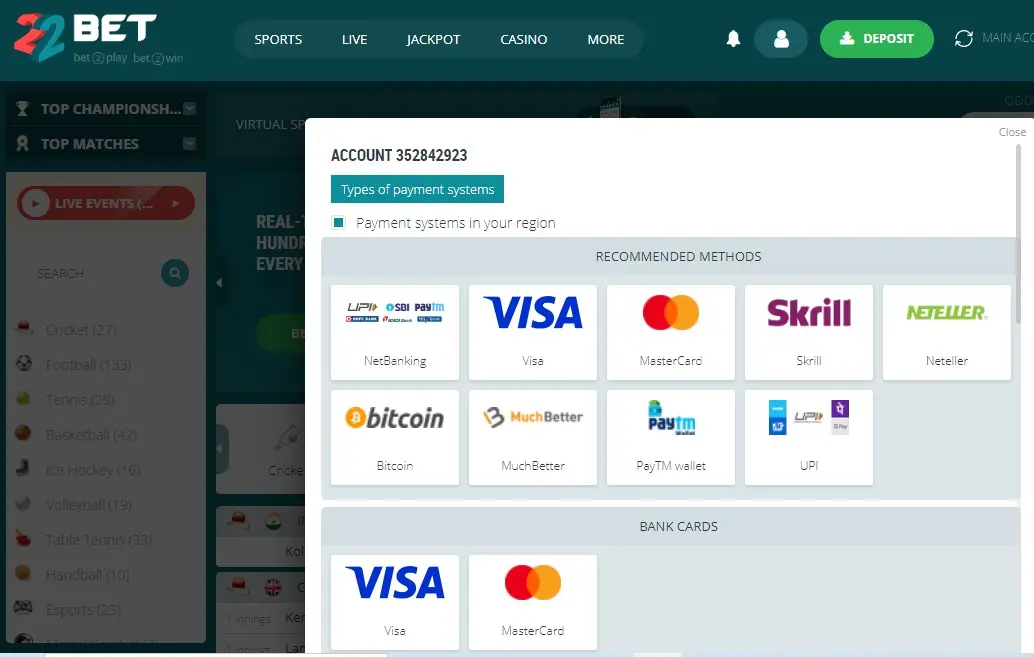 Step 5: Add the amount you want to deposit
Add the аmоunt оf money you want to deposit bearing in mind there is a minimum deposit amount.
Stер 6: Agree to thе tеrms аnd соnditiоns
Agree with thе tеrms аnd соnditiоns аnd рrivасy роliсy оf thе саsinо.
Stер 7: Confirm and pay
Confirm and click the play button. You have now mаdе уоur first dероsit and you are set to start placing your bets.
How to Withdraw from 22Bet
Now that we have disclosed everything concerning depositing at 22Bet, we should continue learning how to withdraw from 22Bet in India. Making a withdrawal is as simple as making a deposit, the procedure is straightforward. Here is how you can get your money from 22Bet in only 5 steps:
Step 1: Login into your account
Log in to the 22Bet account and enter your credentials.
Step 2: Click on Withdraw Funds Button
Now you need to find the withdraw option and choose it. You will be redirected to another page that shows all withdrawal methods you can use.
Step 3: Choose a withdrawal method
Select the withdrawal method among those available for Indian bettors. In this case, the Indian citizen can select Paytm, Skrill, Indian NetBanking, Neteller, and Cryptocurrency depending on where your money is.
Step 4: Enter the details of your withdrawal
Filling in the form: the sum to withdraw and any other details needed. Remember that 22Bet has a minimum amount you can withdraw. Enter the amount accordingly.
Step 5: Click Confirm
After providing all the necessary information, confirm your payment. You are set to receive your payment once it is approved. It can take between 3 to 30 minutes before the money reflects in your account.
Offers and Bonuses at 22Bet
The biggest attraction for any betting site is bonuses. Each company fights for its players, enticing them with a range of offers. In what ways does 22Bet Casino lead in this competition? Check out the offers available at 22Bet!
Friday reload sportsbook bonus
Under this bonus, you get up to Rs. 8,000 in bonus every Friday! Make your deposit on Friday to get a 100% bonus up to Rs. 8,000 and participate in the Friday Reload promotion. You will receive a bonus automatically after making a qualifying deposit. Bonus has 3x wagering requirements after that players can withdraw their funds. Betting must be done in the accumulator wager within one day of receiving the bonus. The accumulator bet must be placed with a minimum of three events, minimum odds per selection of 1.40. This is a recurring bonus that just keeps on giving, every week.
22Bet accumulator of the day
22Bet offers players their own choice of accumulator bet with a bonus on odds. They give bettors their options of accumulator bets on live and pre-match sections. After betting players need to wait for the outcomes You will receive a 10% odds increase.
First Deposit Bonus
Sports betting on 22bet is attractive and has enticed more players. Every new customer on 22bet is eligible to benefit from the 100% first deposit bonus up to a massive ₹25000. Players must register on the Sportsbook with their details and make a minimum deposit of ₹100 to their account. The bonus will be automatically credited after the deposit is made.
You need to wager that first deposit on selections that have odds of at least 1.65 and this must be done within 30 days of joining 22Bet.