Deposits and withdrawals are an important part of any online casino experience. Casino Days has a lot to offer when it comes to these. In this article, we tell you about the different deposit and withdrawal options available at Casino Days. We also tell you how to make a deposit and withdraw here. That's not it, explore more by reading further! 
Deposit Methods Available at Casino Days
Casino Days is an online casino that offers over 3000 casino games to Indians. For Indian players, the casino provides top-notch security and accepts deposits via UPI, INB, Paytm, and Google Pay. It accepts Indian Rupees as well.
Depositing is an important part of online casinos, especially when players are just starting their casino journey. Here are the top deposit methods along with an explanation available at Casino Days. 
UPI
You must have heard of and used UPI if you are an Indian. Unified Payments Interface, or UPI, is one of India's most popular and rapidly expanding payment methods. It is so popular that it can be found in even small establishments such as tea stalls. How could a reputable casino website, such as Casino Days, ignore it?
At Casino Days, you can use UPI to make a deposit. This is, in my opinion, the most convenient deposit method you will ever use. Payments are processed before you even open your eyes. If you've ever used UPI to make a deposit at Casino Days, you'll understand what I'm talking about.
The different types of UPI payment providers you can use at Casino Days India are Paytm, Google Pay, BharatPe, PhonePe, and BHIM. 
Paytm Wallet
Paytm wallet is a safe and secure digital/mobile wallet that can be used for a variety of purposes. It's akin to digital cash that can be used for any type of consumer transaction. UPI, internet banking, and credit/debit cards are all options for funding your Paytm wallet. You can also transfer money from your Paytm wallet to a bank account or another Paytm wallet.
Casino Days, unlike many other casinos, lets you make deposits out of your Paytm wallet as well. Using Paytm wallet is great if you want to be on a budget and not overspend. By using this deposit method you will be adding only how much you can afford to spend while gambling online. 
Ola Money
OlaMoney is your ticket to a world without cash. According to RBI guidelines, OlaMoney powered by Zipcash is a pre-paid instrument issued by Zipcash in collaboration with Ola. OlaMoney can be used to pay for anything, including cab fares, phone bills, DTH recharges, electricity and gas bills, and online shopping.
When I say everything, it includes gambling as well. Casino Days lets you deposit using Ola Money as well. So, if you have some money lying around your Ola Money wallet or you want to use this payment provider for its services and offers, you can freely do that! 
Mobikwik
Initially launched as a wallet, Mobikwik is now a wallet as well as a UPI payment app in India. It may not be as popular as Paytm or Google Pay in India but there's still a demand for it. Like the other wallets and UPI apps mentioned above, this one can also be used for various kinds of payments. 
To provide some variety to the players, Mobikwik is another option provided by Casino Days for depositing. This method is popular amongst older players since Mobikwik is one of the oldest payment methods in the industry. If you're one of them, use your favorite method to deposit at Casino Days!
Debit & Credit Cards
People who like sticking to their roots can deposit using the traditional Debit and Credit Cards at Casino Days. MasterCard, Maestro, Visa, Visa Electron, and other debit and credit card brands are well-known debit and credit card providers. These are the ones available at Casino Days.
Maestro, for example, is a MasterCard sub-brand that is a debit card that is accepted in most European countries as well as India. MasterCard is a credit card that works in the same way as Visa Electron. 
All of these credit card brands are accepted at millions of retail locations, both offline and online. These have become common and accepted ways of making payments at online casinos, as they are accepted by millions of merchants around the world.
Google Pay
As talked about before, Google Pay is a UPI app powered by Google Inc. Google Pay has made it very easy for users to send money in a safe and secure manner! With a simple interface and a clutter-free app, it's easy to see why Google Pay is the most popular UPI app in India. Google Pay has become one of the most widely known deposit methods on betting sites due to its ease of use and ability to deposit with just a few clicks.
PhonePe
PhonePe is a mobile payment platform that allows you to send money via UPI, recharge phone numbers, and pay utility bills, among other things. PhonePe uses the Unified Payment Interface (UPI) system, and all you have to do is enter your bank account information and generate a UPI ID. There is no need to reload the wallet because the funds will be safely and securely deducted from your bank account at the touch of a button. This is a good method to use when depositing at online casinos because of the convenience that it offers. 
Skrill
Skrill is one of the most popular e-wallets at online casinos. This is why you will also find it at Casino Days. Skrill is a UK-based payment system with headquarters in London. The Paysafe Group acquired Skrill in 2015. Money transfer is Skrill's top priority. Customers can, however, make payments online. Originally a prepaid card company, Skrill also offers e-wallet services now. Furthermore, users can link a bank account to make online payments.
Neteller
Neteller is a Canadian payment system. Neteller is now a part of the Paysafe Group, a British global payment group, following a series of mergers and acquisitions. It concentrates on e-transfers from and to merchants.
Despite its reputation as a money transfer service, Neteller also allows customers to make online payments. They simply have to select it as a payment method during the checkout process. Neteller also offers a prepaid card to its customers. Clients can use their Neteller prepaid card to pay online at stores that accept Neteller as a payment option or Mastercard.
Deposits and Withdrawals at Casino Days
After you have learned about the various deposit options available at Casino Days India, you must want to know how can you make a deposit and a withdrawal at Casino Days. I got you covered here because below is a step-by-step guide on how to deposit and withdraw! Let's get started!
How to deposit at Casino Days
Here is a step-by-step guide on how to deposit at Casino Days. 
Step 1: Create an account on the Casino Days website
The first step before you make a deposit at Casino Days is to create an account here. If you already have an account, you need to log into it. Once you are in your account, the next step would be select the "Cashier" option. 
Step 2: Go to the Cashier
At Casino Days, in the upper right corner, you will see a button with the ₹ symbol on it. This is the cashier section. This button also displays the amount that's present in your player account. To increase this amount, press this button. 
Step 3: Choose a deposit option
Now, you will be able to see a list of various deposit options. Out of all the options being displayed to you, you need to select your preferred deposit option. Make sure you have looked at aspects like fees, deposit time, etc before you select an option.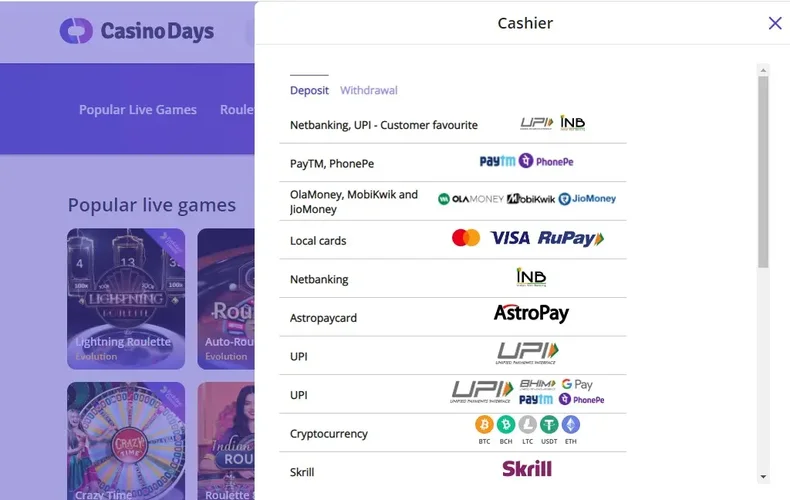 Step 4: Enter the deposit amount
Once you select a deposit method, you will be asked to deposit a certain amount. You must keep the minimum deposit requirement in mind if you have availed of the welcome bonus at the time of registration. I will also advise you to deposit only how much you can afford to lose because gambling, after all, is a game of chance and you do not want to gamble your rent money away.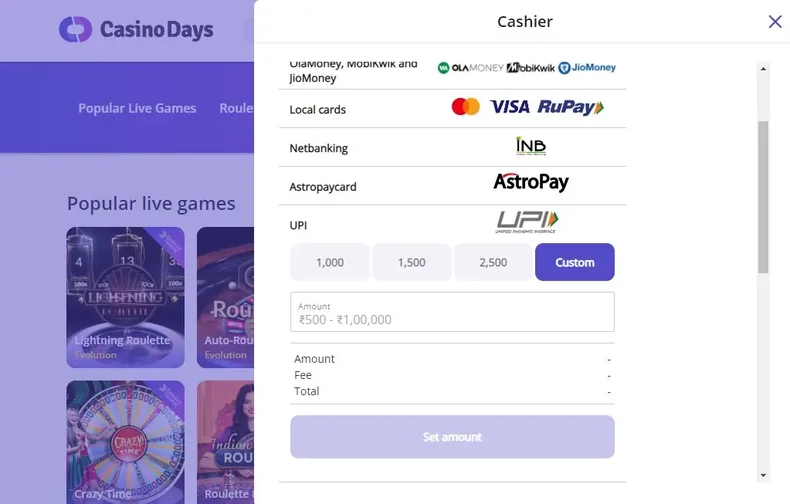 Step 5: Confirm the transaction
Once you enter the deposit amount and click deposit, you will be taken to a new page. On this page, you will need to enter credentials of whatever deposit method you have opted for. For example, if you have opted for a UPI deposit, here you will need to enter your UPI id. 
Once this is done, you will be asked to confirm your transaction. Do that to confirm your deposit. Depending on the deposit method, the money will reflect in your player account soon. 
How to withdraw from Casino Days
Here is a step-by-step guide on how to withdraw from Casino Days. 
Step 1: Enter the website
To start with the withdrawal process, step one is to enter the Casino Days website either by logging in or creating an account. 
Step 2: Go to withdrawals
Once you are in your player's account, you need to go to the withdrawals section. You can access this section by clicking on the button in the right corner. 
Step 3: Select your preferred withdrawal method
When you click on withdrawals, you will be given a list of withdrawal options to choose from. Out of these options, you need to select your preferred option. Just like deposits, we would suggest that before making a withdrawal you should check the fees, timelines, and other terms and conditions associated with your withdrawal method. 
Step 4: Enter the amount of withdrawal
Once you have selected a withdrawal method, now you need to enter your withdrawal amount. Before doing this, please make sure that you have fulfilled all wagering requirements associated with your bonus. 
Step 5: Enter credentials and Confirm the transaction
Once you have entered the amount of withdrawal, you need to enter the credentials of your withdrawal method and then confirm the transaction. Your withdrawal will be activated after you confirm the withdrawal, depending on the withdrawal method your winnings will be reflected in your account soon.
Offers and Bonuses at Casino Days
The Welcome Offer
Casino Days keeps things simple, offering a 100 percent match first deposit bonus up to Rs100,000. At the time of writing, the deposit is divided into three installments as follows:
The first deposit is 100% up to Rs50,000.
Reload bonus of 50% up to Rs25,000 on second deposit
Reload 50% up to Rs25,000 on the third deposit.
However, as is standard in the industry, the bonus comes with wagering requirements – at Casino Days, you must wager your bonus funds 35 times before they can be withdrawn. The following are some of the key terms and conditions of the welcome bonus:
The bonus will expire if you do not meet all wagering requirements within seven days.
This offer excludes EcoPayz, Neteller, and Skrill as viable payment options.
Live Casino Cashback
They have a casino and a live casino, and this is a live casino offer in which you can get a 10% weekly cashback on all funds wagered in live casino gaming at the Casino Days live casino. Every Wednesday at midnight CET, the cashback will be credited, and the more you play on Casino Days, the more cashback you will earn. The minimum cashback you can earn each week is ₹1,000, and the maximum cashback you can earn is ₹10,000. After that, you'll only have to wager the cashback once before you can withdraw it.
Game of the Week
Just like the name suggests, the game of the week offer at Casino Days is an offer where you get a 25% deposit offer of up to ₹10,000 if you wager on a specific game. Every week this game changes and players get a chance to try out a new game as well. The minimum deposit for this offer is ₹2,000. 
Final Verdict
Overall Casino Days is a great casino with plenty of deposit and withdrawal options for its users. The whole process of deposit and withdrawal has been made smooth by the team. Players have new as well as traditional payment options and it couldn't get better than this! You can surely register and play at Casino Days because deposits and withdraws will be a breeze here.